Product Description
Stainless steel deep frying BASKET for electric fryer

As a kitchen utensil, the deep frying basket is mainly used to fish out the food after frying, or the frying basket is directly placed in the oil pan to fry the food in the frying basket.The frying basket is a simple frying basket that can be overlapped for general household use. The food machinery (electric fryer, fryer) uses a straight-handle open frying basket.Frying basket purpose: used for cooking, cooking, etc. of food! It is mainly used in restaurants, hotels, hotels, McDonald's, KFC, and large supermarkets. It is mainly used in French fries, bread, fish, and other foods. It has strong rust resistance, novel appearance and convenient use.

Frying basket material: 304, 316, 316L and other food grade stainless steel wire and iron material electroplating food grade nickel surface treatment.

MSG is a professional manufacturer for tostada fry basket, in different material, shapes, dimension to fit diverse requirement. Besides, we also supply air fryer tostada and other tostada fried tools. If you're looking for a tostada fryer basket supplier, you're welcome to inquire from us.
1. High quality Tostada Shell Deep Fryer Basket
2. Produce according to drawing
3. Variable Sizes as per customer's requirement

Our company, Manufacturing Service Group, has been specialized in manufacturing metal wireworks, sheet metal fabrication, cnc machining since 2000. We provide customers with good quality products according to requirements or drawings to meet our customers' specific needs. So far, we have been dealing with different companies for over 8 years in making: Fry basket, rack, display, shelf, stand, hanger etc.

Aim at providing our customer with best quality products, we also provide services such as: Sending a self-governed inspection team to the factories to follow up the production from the material purchasing to product finishing; Sourcing other products and accessories made in China to satisfy our customers' needs. So far, we have become good business partners with customers from countries like US, Finland, UK and New Zealand.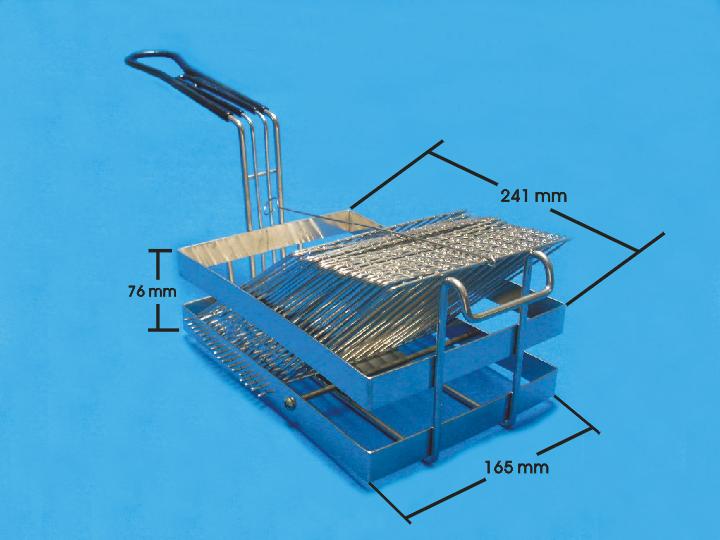 Huiye Hardware & Electrical Equipment Company Ltd.
As an investor to several manufacturers located in Guangdong of China, Huiye Hardware & Electrical Equipment Company Limited established in 2000 is specializing in Precision Sheet Metal Fabrication, Metal Stamping Pressing, Deep Drawing Press, Precision Machining and Metal Wireworks and Construction Materials. Having been serving the international OEM market for over ten years, we′ve expanded our manufacturing operations to nine modern and spacious facilities in Jiangmen, Guangdong China. Our high tech facilities like Triumph laser cutter, Amada stamping press equipment, Hydro-pneumatic equipments, Robot Welders, Auto Bending Machines, Auto- gasket sealing machine as well as our intimate surface treatment partners in powder coating, nickel and chrome coating, anodizing, nitriding, annealing and hardening enables us to meet customers growing needs. Assembled highly skilled employees, advanced technology and advanced equipments, we aim at providing customers with the highest degree of quality, the best resources available at most competitive price. Moreover, we provide services like providing designing services to customers based on samples, sending a self-governed inspection team to factories to follow up the whole production process from material purchasing to product finishing, sourcing other products and accessories made in China to meet various requirements of our customers. Thank you for considering our company as a source to work for your manufacturing challenges, we are confident that we would be your best one-stop partner.
Company Name: Huiye Hardware & Electrical Equipment Company Ltd.
Product/Service: Sheet Metal , CNC Machining , Deep Drawing Press , Metal Wirework , Precision Casting , Steel Structure
Year Established: 2010
No. of Production Lines: Above 10
Factory Location: Room 105, No. 32 Donghai Road, Jiangmen, Guangdong, China 529040
Contact Person: Ms. Tiffany Fung
Tel: 86-075-3823809